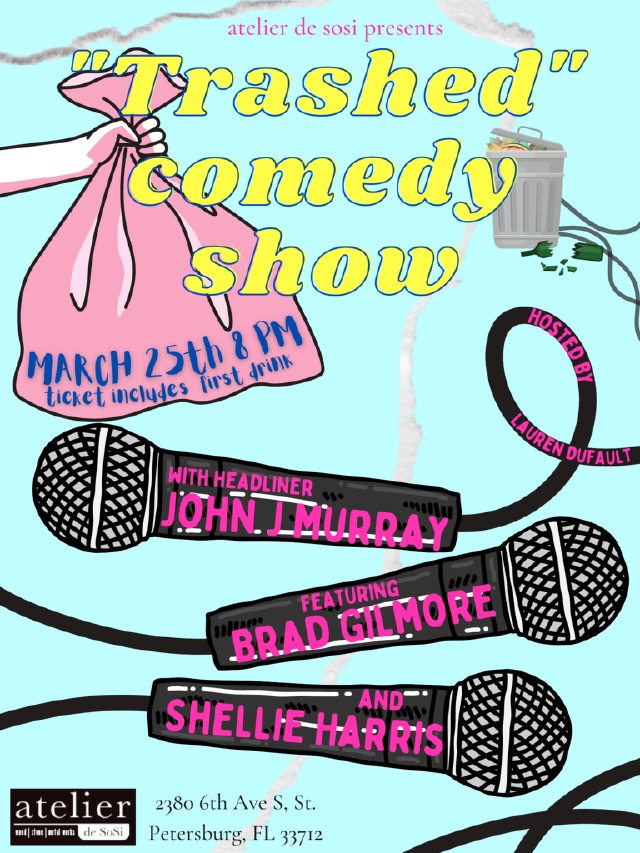 Turning Trash into Laughs 
Atelier de sosi partners with host Lauren Dufault to find the medium between stand up comedy- highlighting the exhibition "Trashed". 
St Petersburg, FL: Pollution is no laughing matter- but when you take those crusty cans and twisted straws you can find yourself with a whole pile of art. Visual artists and comedians come together to present an experience at the venue Atelier de sosi, located in the Warehouse District. Not only is the art for the show "Trashed" made from 85% trash, the comedy is 100% filled with laughter. This collaboration only highlights and cultivates the growth of a dynamic arts community here in St Petersburg. 
Hosted by Lauren Dufault, she brings a group of the area's favorite comedians. Shellie Harris lights up the stage bringing experience from all over Tampa- you've seen her on stages such at Tampa Improv and Side Splitters. Our feature comedian Brad Gilmore and Headliner John J Murray recently hosted the 2022 Dunedin International Film Festival together and showcase their talents behind the microphone- with their podcast called Something Planet Podcast. John J Murray's new special, "Rhinoceros" can be found on Amazon Prime in late March. 
The show is happening Friday, March 25th at 8p. It's hosted by Lauren Dufault in the Warehouse district at the beautiful venue Atelier de Sosi. Tickets are $25 and includes your first drink. You can call (727) 370-4192 for more details and to reserve seats.
purchase tickets here