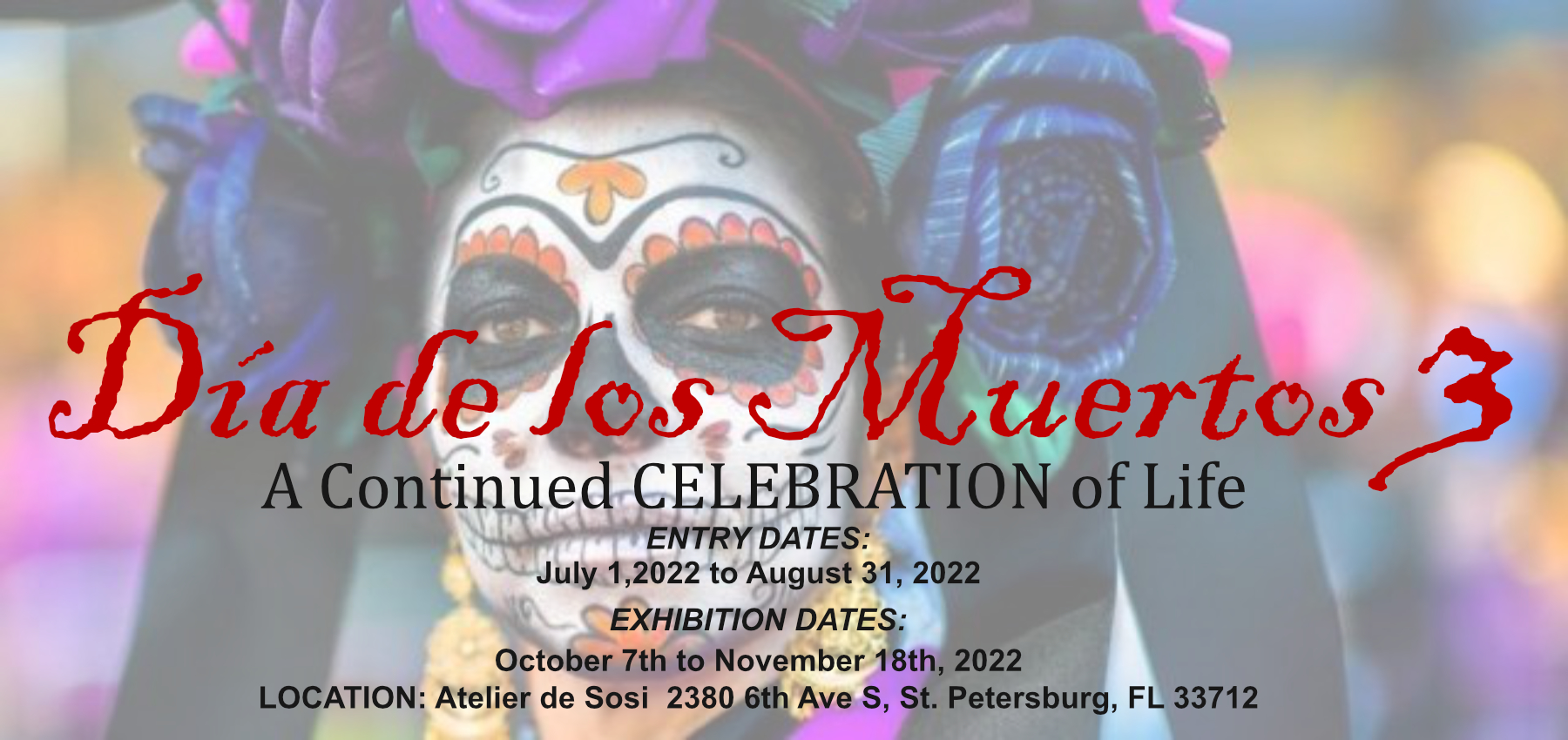 Atelier de Sosi  invites artists to submit work for an exhibition showcasing original artwork that represents the theme:
"Día de los Muertos, A Continued Celebration of Life." It is an open, national juried call-to-artists curated by St. Petersburg based artists Mark Noll and Danyell Bauer .
Day of the Dead (Spanish: Día de Muertos) focuses on gatherings of family and friends to pray for and remember those who have passed on, and help support their spiritual journey. The show is about celebration of the lives and the joyful remembrance of the departed
During the Día de los Muertos, mourning was not allowed because it was believed the tears would make the spirit's path treacherous and slippery. "This day is a joyous occasion; it's a time to gather with everyone in your family, those alive and those dead."
We are asking the artists to step outside of the confines of tradition and express the theme, "The Celebration of Life," through their own vision. Feel free to use traditional styles, but do not limit yourself to them. We are looking for a variety of fine aft media, including painting, drawing, photography, clay, wood, glass, fiber, metal and mixed media.
Artists and art lovers attending the opening are invited to dress up in costume. Face painting and masks will be available at the gallery.
exhibition dates: october 7th – november 18th, 2022
DETAILS
Eligibility
Open to artists 18 years or older from anywhere in the United States.
How to submit
Artists are invited to submit recent work.
Fill out the online application
Have images of the work you are going to submit as well as a photo and Artist Statement.
A jury panel will use your digital images to select entries based on originality, creativity, quality and complexity of workmanship, artistry and impact as represented in the images submitted.
Important Dates and Info
Submission period opens: July1, 2022
Early submission deadline:  August 31, 2022
Entry fees are: $20 for up to 4 works (Payment via Venmo or Paypal)
Late submission deadline: September 9th, 2022
LATE entry fees are: $30 for up to 4 works (Payment via Venmo or Paypal)
Notification of acceptance via email: Week of September 12
Selected artwork due at Atelier de SoSi Gallery:  September 26 – September 30 by appointment, please email to schedule.
Opening reception and award announcements:  October 7th,  5:30 to 10:30 p.m.
Closing reception : NOVEMBER 18th, 5:30 p.m. -10:30 p.m.
Art Pick-up:  November 21-25 ,2022
For general exhibition information or questions related to the call to artists, email DiadelosMuertosArtShow@gmail.com
exhibition guidelines
Up to 4 pieces completed after January 2021 may be submitted.
All formats of fine art will be considered, including wall-hung, free-standing, suspended or pedestal mounted and art to wear.
All work must be original in concept, design and execution. Small production studio work will be considered. Work created in a class, workshop, or from a kit or purchased pattern is not eligible.
Work must be for sale.
No substitutions for accepted artwork will be allowed. All work must remain on display until the conclusion of the exhibit November 18, 2022
Submitted images may be used for marketing and promotional purposes directly related to this exhibition and all other rights remain that of the artist.
All accepted entries must be received ready to install or with limited assembly. Any mannequins for wearable art, hanging rods, armatures or other special installation equipment and/or instructions must be provided by artist. Suspended work may not exceed 50 pounds – special exceptions may apply.
Shipped works requiring glazing must use Plexi-glass or equivalent. Glass may be used on hand-delivered pieces.
Each accepted work must arrive with labeling (artist name, title, media) and the completed consignment form securely attached to the piece or on the hanging device.
We reserve the right to reject work that is not represented accurately in the submitted images and description. Works that arrived damaged, are poorly constructed, poorly presented or not up to the specified hanging standards will be returned to the artist.
Atelier Gallery will not insure work in its possession during the exhibition.

3 Entry Procedures
Have good images up to (mb) for each piece.
Prepare artist statement of 250 words or less.
Fill out the online form here (Submit application):
 Payment via Venmo or Paypal
Shipping
Shipping to and from Atelier de SoSi is the responsibility of the artist. Detailed delivery and shipping instructions will be emailed with your acceptance notification.
All work must be shipped in sturdy containers with NO PEANUTS in the package. The artist must provide credit card information for return shipping costs. Please include a visual packing list (photos) with your art, and any assembly instructions.
Your works will be returned to you in new packing material, suitable to make an insurance claim should one be necessary. You will be charged at cost for the packing and shipping by the professional shipping company.
Sales
Atelier De SoSi will handle sales transactions while work is on exhibit and will ship work to buyer when the exhibition is over. Shipment of all sold objects will be paid by the purchaser.
All sold items must remain on display for the duration of the exhibition and will not be forwarded to the purchaser until the end of the show.
There is a 40% commission on sales and 60% goes to the artist. Artists should consider this when pricing their work. The price of a piece may not be changed after acceptance into the exhibition.
Payments to the artist for all sold pieces will be within 30 business days after the closing date of the exhibition. It is the Artist's responsibility to contact the Atelier de SoSi Gallery Manager with the correct mailing address for the check, if different from the consignment form.
Please call Danyell Bauer (727-437-9113) or Mark Noll (727-515-6352) with any questions, or email us at
DiadelosMuertosArtShow@gmail.com
atelier de sosi
Address: 2380 6th Ave S, St. Petersburg, FL 33712